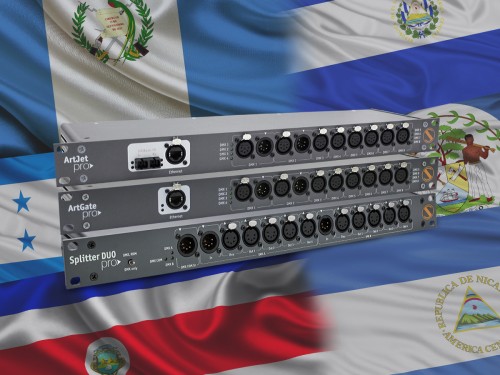 ENGLISH
London, UK, July 15th 2019 — Sundrax Electronics, London based manufacturer of DMX networking products for entertainment lighting, proceeds with on-going bid to ramp up its global reach, this time with the appointment of Sipro as its distributor for Central America region, namely Guatemala, Nicaragua, Costa Rica, El Salvador, Honduras, and Belize.
The deal is the latest in a string of new distributor appointments for the company, having recently inked agreements for Chile, Argentina, Bolivia, and Ecuador.
Sipro, whose headquarters are located in Guatemala, is committed to be an efficient supplier of products and services that offers the best solutions in lighting, audio, video, content and screens of the highest range that achieve the full satisfaction of its customers. Sipro's distribution portfolio includes products by MA Lighting, Epson, Clay Paky, DiGiCo, Da-Lite, Eiki, and LightLink, now completed with Sundrax's one of the most comprehensive DMX networking product range including:
Alan Mejía, Sipro's commercial director commented: "We are glad to finally decide this is the right time to introduce Sundrax's products for our Central American clients. Local lighting designers deserve high-tech products that will improve lighting networking performance functionality, reliability and the comfort of their work at the venues. Sundrax's products have a strong synergy with our business, directed to lighting, audio, and video designers and engineers, production companies and rental, and in those fields we are one of the most experienced distributors in Central America."
Melisa Patino, International Sales Engineer of Sundrax Electronics, added: "We are very pleased to welcome Sipro as distributor in this key American region which market we find very vibrant and flourishing at the moment. They have a great line of brands and a team with the expertise to provide excellent technical support. I am looking forward to working with them and introducing Sundrax to lighting designers and engineers throughout Central America."
TRADUCCION A ESPAÑOL
Londres, Reino Unido, 15 de julio de 2019 — Sundrax Electronics, fabricante de productos de redes DMX para iluminación de entretenimiento con sede en Londres, continúa con la oferta en marcha para aumentar su alcance global, esta vez con el nombramiento de Sipro como su distribuidor para Centro América, cubriendo Guatemala, Nicaragua, Costa Rica, El Salvador, Honduras y Belice.
El acuerdo es el último de una serie de nuevos nombramientos de distribuidores para la empresa, habiendo firmado recientemente acuerdos para Chile, Argentina, Bolivia y Ecuador.
Sipro, cuya sede central se encuentra en Guatemala, se compromete a ser un eficiente proveedor de productos y servicios que ofrezca las mejores soluciones en iluminación, audio, vídeo, contenidos y pantallas de la más alta gama que logren la plena satisfacción de sus clientes. La cartera de distribución de Sipro incluye productos de MA Lighting, Epson, Clay Paky, DiGiCo, Da-Lite, Eiki y LightLink, que ahora se completan con la gama de productos de redes DMX más completa de Sundrax, que incluye:
• Nodos DMX-Ethernet-Fibre ArtGate & ArtJet,
• Transceptores inalámbricos,
• Convertidores DMX-DALI,
• Controladores DMX-LED,
• Splitters,
• Gama de productos de uso exterior para iluminación arquitectónica
• Productos de transmisión DMX-Powerline.
Alan Mejía, director comercial de Sipro comentó: "Estamos encantados de decidir finalmente que este es el momento adecuado para presentar los productos de Sundrax para nuestros clientes centroamericanos. Los diseñadores de iluminación locales merecen productos de alta tecnología que mejorarán la funcionalidad de rendimiento de las redes de iluminación, la fiabilidad y la comodidad en sus lugares de trabajo. Los productos de Sundrax tienen una fuerte sinergia con nuestro negocio, dirigido a diseñadores e ingenieros de iluminación, audio y video, empresas de producción y alquiler, y en esos campos somos uno de los distribuidores más experimentados de Centroamérica".
Melisa Patino, Ingeniera de Ventas Internacionales en Sundrax Electronics, añadió: "Estamos muy contentos de dar la bienvenida a Sipro como distribuidor en esta importante región Americana,ya que el mercado nos parece muy vibrante y floreciente en este momento. Cuentan con una gran línea de marcas y un equipo con la experiencia necesaria para proporcionar un excelente soporte técnico. Estoy deseando trabajar con ellos e introducir Sundrax a diseñadores e ingenieros de iluminación en toda Centroamérica".­­­­