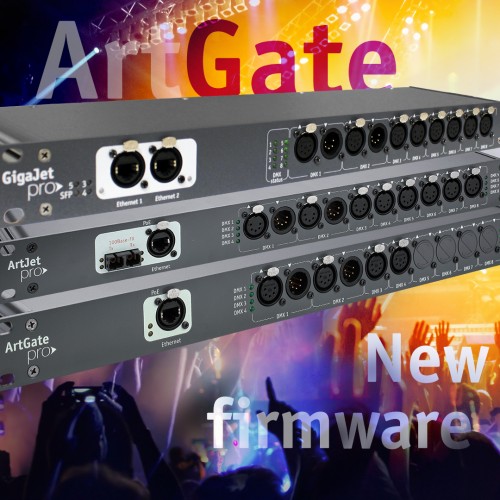 New firmware release 4.09 for ArtGate/ArtJet/GigaJet DMX-Ethernet nodes
This release dated 13 Feb 2020 features a number of functions that can be useful in building and maintaining of complex indoor and outdoor lighting installations.
Get it now
Updates:
Smart output mode can be enabled on each individual port, enhancing device functionality and application possibilities. Smart DMX output port controls its own activity according to presence/absence of network universe to output, and presence/absence of external DMX controller connected to the same bus. Multiple controllers/converters can be safely connected to the same DMX bus, making smart output feature extremely useful in projects where reliability and multi-level backup is a top priority.
Individual DMX port setup for miscellaneous parameters gives an ability to mix different types of equipment within one ArtGate converter. User can set up: input timeout, in milliseconds (used both for input data refresh to network universe, and for external signal presence detection on smart outputs); output frame repetition period, in milliseconds (DMX512 frame rate); output data validity timeout, in seconds (used for universe inactivity detection and in smart mode); RDM enable/disable (both for input and output port directions).
Output universe data can be shifted to offset from -511 to +511. Any portion of DMX address space can be moved to any necessary position, what is useful when fixture(s) DMX address cannot be changed for some reasons.
SLP support makes nodes discoverable for consoles and other management systems supporting ANSI E1.17 standard (ACN SDT/DMP).
In order to get new firmware for your ArtGate/ArtJet/GigaJet please go to Downloads section of our website.
Note: Firmware v.4.09 is compatible only for devices with current firmware versions 2.01 and higher. The responsibility to ensure the compatibility of your Sundrax product to download any specific Sundrax firmware and or software shall be solely vested in you. Using an incorrect / inappropriate firmware and or software may cause malfunction to your Sundrax product and you agree to discharge us against any liability for the same. Please advise with Sundrax Support before uploading new firmware to your device.