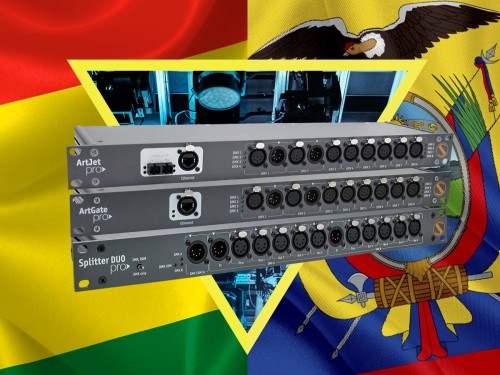 ENGLISH
London, UK, July 10th 2019 — London-based Sundrax Electronics has appointed a new distributor for Bolivia and Ecuador, opting to utilise the services of Sonotec Group, an established player in the region.
Sonotec will be responsible for supplying Sundrax's range of products to customers in both countries providing access to one of the most comprehensive DMX networking product range. Those products include the ArtGate & ArtJet DMX-Ethernet-Fibre nodes, wireless transceivers, DMX-DALI converters, DMX-LED drivers, splitters, outdoor product range for architectural lighting and other products including PWRDMX DMX-Powerline transmission technology. All these products have been designed to provide the most reliable and professional solution for lighting infrastructure in all environments, whether it's theatres, local venues, tours or churches.
"Having evaluated all the big brands in the market offering DMX networking products," noted Kevin Trujillo, General Manager of Sonotec Bolivia, "we experienced the Sundrax products as being the most suitable high quality products, made in the United Kingdom, and tested throughout the world in different conditions."
He continued: "We were looking not only for a company that was specialised in reliable yet affordable lighting networking products but also offering an ongoing support, that is always ready to advise on the better solution and help resolve any questions arisen. We ultimately wanted outstanding performance combined with simple, intuitive set-up, so an installer doesn't need to be a lighting guru to get great results. In Sundrax we found exactly this."
Melisa Patino, International Sales Engineer of Sundrax Electronics, commented: "We have had a comprehensive research in finding the right partnership for the region, but after experiencing the technical resources and the strong portfolio of Sonotec, combined with excellent expertise and proactive business approach, we are pleased to finally have found the perfect Sundrax distributor for Bolivia and Ecuador. And we are confident we are having reputable representative in the region."
TRADUCCION A ESPAÑOL
Londres, Reino Unido, 10 de julio de 2019 – Sundrax Electronics, con sede en Londres, ha nombrado un nuevo distribuidor para Bolivia y Ecuador, optando por utilizar los servicios de Sonotec Group, un actor establecido en la región.
Sonotec será responsable de suministrar la gama de productos de Sundrax a los clientes en ambos países, brindando acceso a uno de los productos de redes DMX más completos. En los cuales se incluyen los nodos ArtGate & ArtJet DMX-Ethernet con fibra, transceptores inalámbricos, convertidores DMX-DALI, controladores DMX-LED, splitters, productos de uso exterior para iluminación arquitectónica y otros productos incluyendo la tecnología de transmisión PWRDMX DMX-Powerline. Todos estos productos han sido diseñados para proporcionar la solución más confiable y profesional para la infraestructura de iluminación en todos los entornos, ya sea en teatros, locales, giras o iglesias.
"Habiendo evaluado todas las grandes marcas en el mercado que ofrecen productos de redes DMX", señaló Kevin Trujillo, Gerente General de Sonotec Bolivia, "experimentamos los productos Sundrax como los productos de alta calidad más adecuados, hechos en el Reino Unido y probados en todo el mundo en diferentes condiciones".
Continuó: "No solo buscábamos una compañía especializada en productos de redes de iluminación fiables y asequibles, sino que también ofreciera un soporte continuo, que siempre estén listos para asesorar sobre la mejor solución y ayudar a resolver cualquier duda que surja. En última instancia, queríamos un rendimiento excepcional combinado con una configuración simple e intuitiva, por lo que un instalador no necesita ser un gurú de la iluminación para obtener excelentes resultados. En Sundrax encontramos exactamente esto ".
Melisa Patino, Ingeniera de ventas internacionales en Sundrax Electronics, comentó: "Hemos realizado una investigación exhaustiva para encontrar la asociación adecuada para la región, pero después de experimentar los recursos técnicos y la sólida cartera de Sonotec, combinada con una excelente experiencia y un enfoque empresarial proactivo, nos complace haber encontrado finalmente el distribuidor de Sundrax perfecto para Bolivia y Ecuador. Confiamos en que tenemos un representante de renombre en la región".