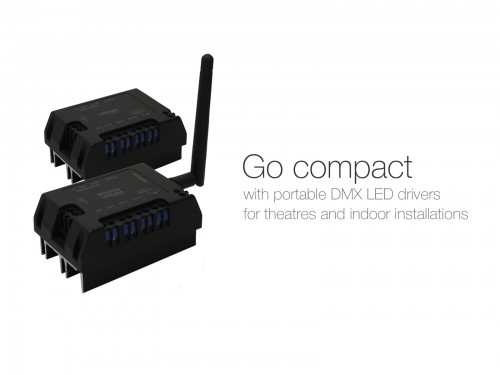 We've strated selling tiny and stylish DMX-input LED drivers with wireless channel available and 4 outputs — LEDGate Compact. 
New wireless and wired compact LED drivers in lightweight nifty black cases powered from 12/24 VDC and controlling up to 4 LED outputs for architectural lighting, indoor LED installations, "running fire" installations, driverless LED luminaires etc. With independent short-circuit protection on each channel, you may be sure that you're safe from unwanted emergencies.
Thanks to innovative embedded algorithms, LEDGate Compact provides smooth, stepless regulation in full range of intensity.
More info about the products: LEDGate Compact; Wireless LEDGate Compact
Data sheets: LEDGate Compact; Wireless LEDGate Compact